River cruising is a very different experience from ocean cruising. The environment. The scale. The pace. The vibe. It's all different.
And let me just come right out front and tell you that it's not for everybody. To truly get the most out of a river cruise, you need to be a traveler of a certain mindset, and maybe a certain age.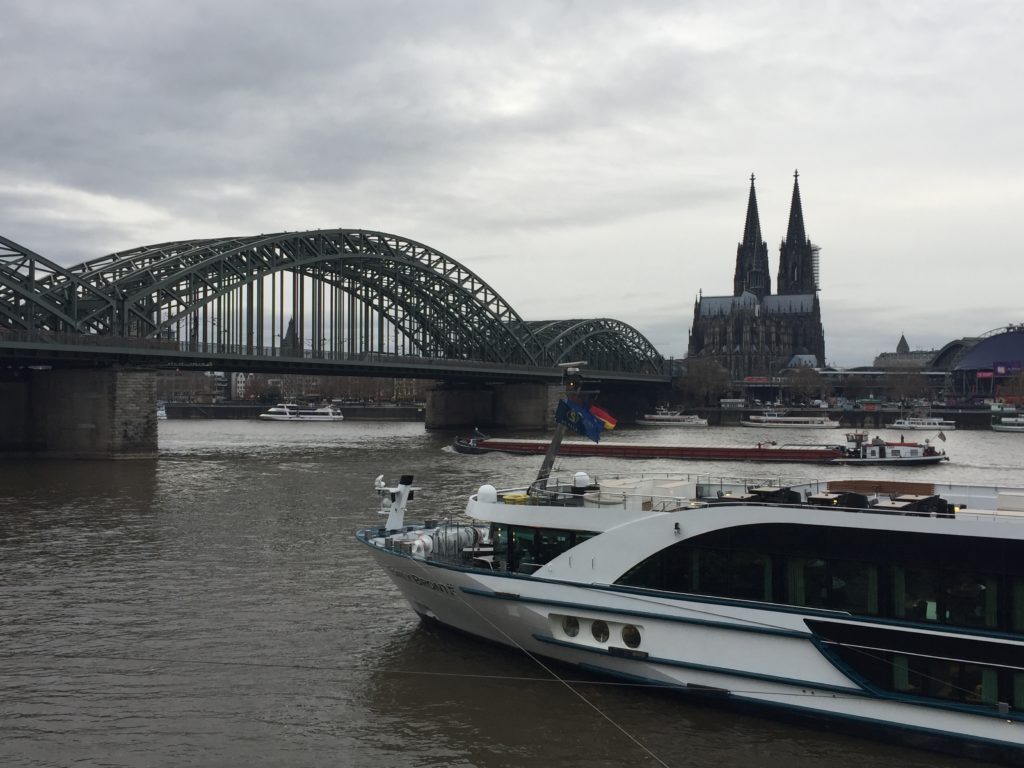 But if you are, a river cruise is a journey you'll want to repeat. Because no matter how times you take one, it will never go down exactly the same way twice.
This is some of what I learned recently during a four-day Rhine River cruise aboard the MS Emily Brontë, one of newest of 29 river cruisers belonging to the Scylla AG cruise line of Switzerland.
A MATTER OF SCALE
There are a lot of differences between ocean and river cruising, and the first of those differences hits you the moment you show up to board your ship.
Modern ocean cruise ships are basically resort hotels built atop a ship's hull, massive, hulking blocks of cabins that tower over the water, the harbor and you.
When we boarded the MS Emily Brontë in Frankfurt, Germany, her sun deck, the uppermost deck on the entire vessel, barely rose to level of the dock. At 135 meters in length, she's half again longer than a football field, but she has only three decks of cabins for a total capacity of 169 passengers.
Compare that with Royal Caribbean's Symphony of the Seas, which has more than 200 cabins on just one of its 11 passenger decks.
Right from the start, then, you're in more a much more intimate travel experience on the river.
Provided, of course, that the river cooperates. And as I found out, that is not guaranteed.
I mentioned that my cruise aboard the Emily Brontë started in Frankfurt, right? It was supposed to start and end in Cologne. But Europe had been suffering a drought this year (don't say the D-word to a Californian. It's painful), and that had left the Rhine water levels low.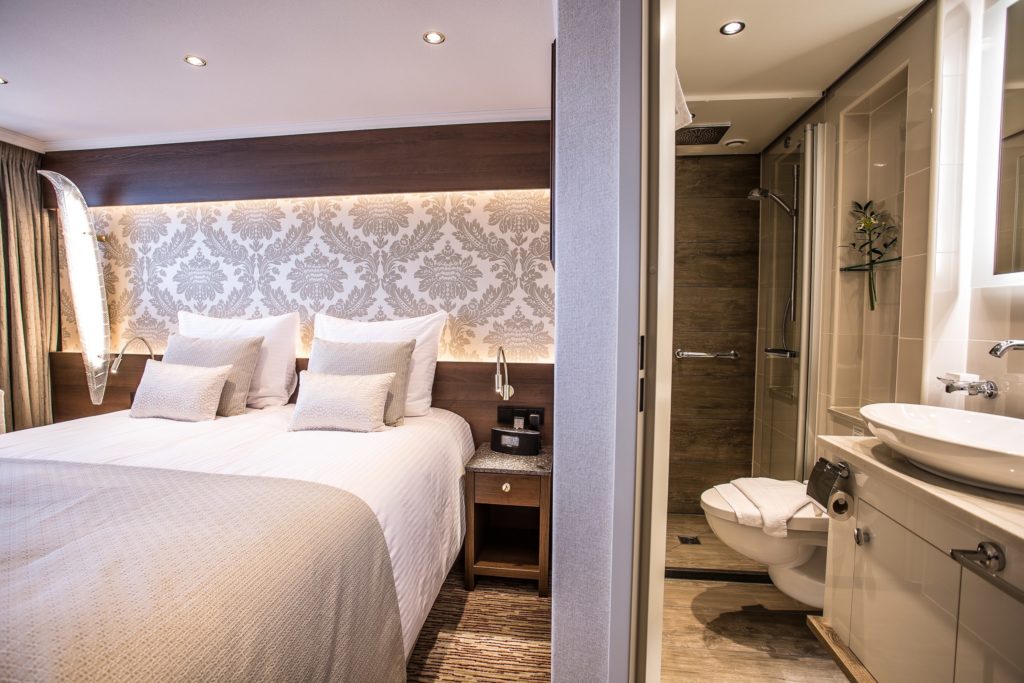 THE RIVER AS SHOTCALLER
So low that even shallow-draft vessels like the Emily Brontë could reach certain ports only at the risk of running aground.
So even before we sailed, the Rhine had already re-written our itinerary. Instead of sailing from and returning to Cologne, se would have to start from Frankfurt and could sail only as far as Bonn. From there, we'd return to Cologne by bus.
Even before arriving in Frankfurt, one of the first things the company does is make sure you have the ship's phone number, in case the ship out not to be docked where it was supposed to be.
Sounds kind of undignified, doesn't it? But when you sail on a river, the river calls the shots — and she doesn't care how much you paid for your vacation.
Two words to the wise right here. The first is "travel." The second is "insurance."
If you have a lot of experience on ocean cruise ships, especially the mega-ships that dominate the cruise market today, you'd better sit down for what I'm going to tell you next:
In four days aboard the Emily Brontë, I never stood in line for anything. Not to board. Not to disembark. Not to go to dinner. Not to settle my bar bill. Not once.
December is Christmas market across Europe, and our cruise was designed to take advantage of that.
Being on the river meant that we could dock within a few blocks of a town's main square, where vendors in storefront shops or rows of brightly decorated stalls sell everything from handcrafted Christmas ornaments to antiques, along with lots of traditional snacks and the obligatory hot mulled wine known in Germany as glühwein.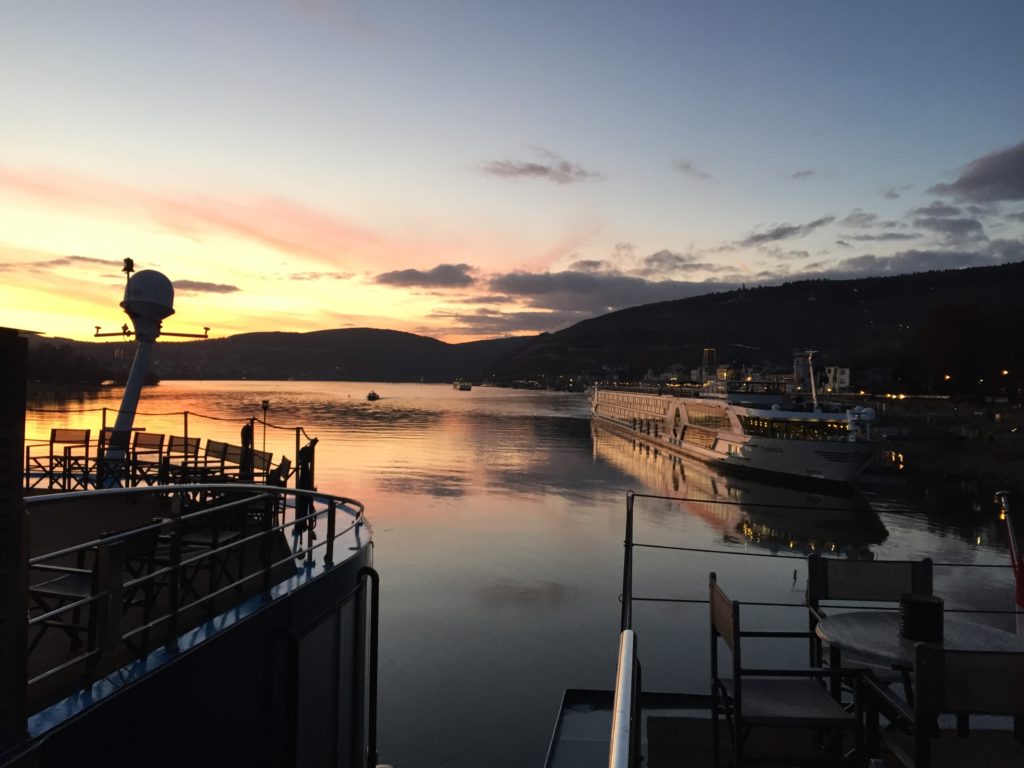 No need to find the one tour bus that the ship's tour department has assigned you to for a long, slow drive into the city center. You can follow a local guide on a narrated walking tour or go on your own. Just be back on board the ship 15 minutes before sailing time.
Remember, this is a Swiss-owned ship, and the Swiss have a well-earned reputation for being punctual. And that's a good thing because on a river cruise, you're probably going to making at least one port call a day every day.
You seldom get "sea days" on a river cruise.
Because of their small size relative to their big sea-going sisters, there are a lot of amenities you won't find on a river cruise ship. No shopping arcades. No specialty restaurants. No bars that travel up and down three decks or have robots making your drinks. No gyms or spas. No outdoor theaters with giant screens. No discos or casinos. No basketball courts, climbing walls or ziplines.
One main restaurant forward. One small bistro aft. One lounge. On the Emily Brontë, that's it.
If you get a swimming pool, consider yourself lucky.
So if you need a lot of onboard diversions you keep you entertained — or at least well distracted from the fact that you're on a ship miles from the nearest landmass, you may have a hard time on a river cruise.
On one of these cruises, the river itself is the show.
THE RIVER AS STAR
If you're looking for a chance to dial down from your 9-to-5 life and just chill for a few days, an ocean cruise is great for that. You can pull up a lounge chair with a drink or two, break out that book you've been meaning to read for the last six months and let the endless, unchanging sea and sky gently, quietly drain the stress right out of you.
A river, especially one like the Rhine, is different. It moves, it turns. It has a personality, sometimes an attitude, and it definitely has its own flow. A river takes you places. No matter how far you go, you're never out of sight of land. And hour by hour, minute by minute, sometimes even second by second, the view from your cabin constantly changes.
On a river cruise, nobody has to go up on deck to check out the view, because everybody gets an outside cabin.
We passed charming little villages and major cities. Hillside vineyards and hilltop castles built long ago by nobles who used to extort — I mean, charge a toll — to merchants bringing their goods to market via the Rhine.
We also sailed under a lot of bridges, many of them painstakingly rebuilt to their original antique grace and stature after having been destroyed in World War 2.
Cruising the river, you glide past the sights, and the sights glide past you, sometimes surprisingly close by. Because you're not the only boat on the river.
Far from it, in fact.
There are other river cruise boats, heading upriver as yours is heading down. Long self-propelled barges, hauling everything from coal to fuel to 40-foot shipping containers, with two or three cars parked behind the wheelhouse at the stern.
SIZE — OR LACK THEREOF — MATTERS
They pass on either side of you, sometimes seemingly close enough to let you reach over the rail from your cabin and exchange high-fives.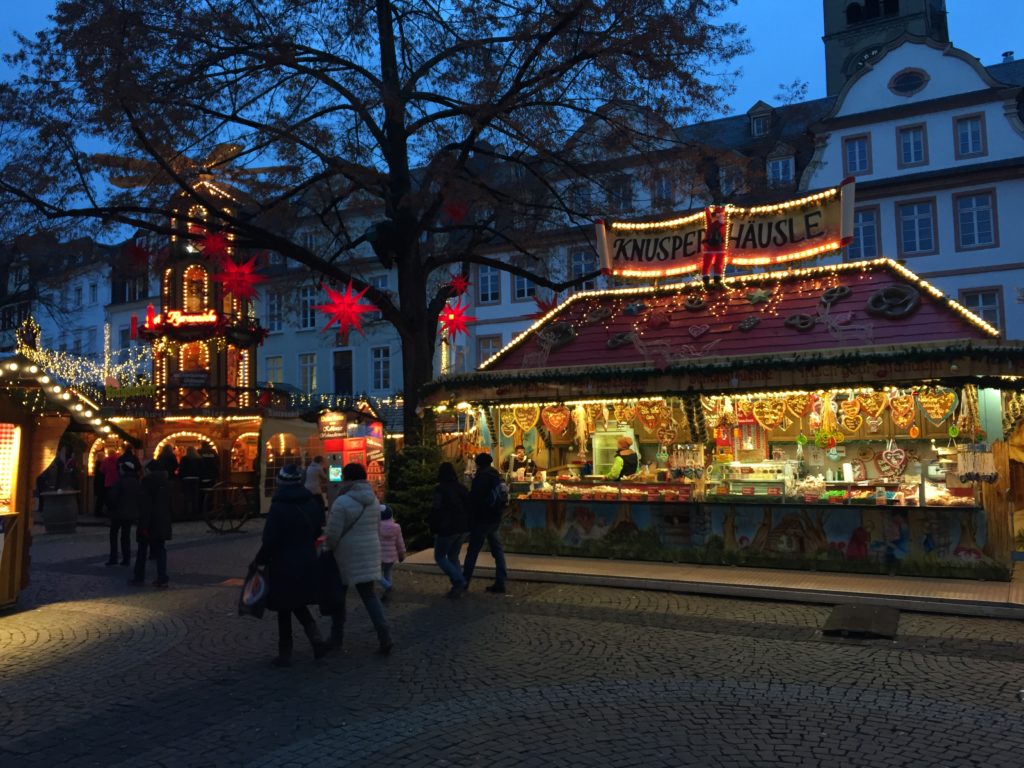 If you don't have "sea legs," don't worry. You won't need them. The river itself is so smooth that you often have to look out your window to see if your moving. Not even the wakes of all that large shipping traffic make any impression at all.
We talked earlier about scale on a river cruise ship, remember? That also applies to your cabin. It will likely be smaller than those of ocean cruise ships. Possibly much smaller. That means much less storage space. So if the cruise line advises you to pack light, take the advice seriously. Also, don't take the biggest bags you own.
Otherwise, you may find yourself sleeping with — or on — your suitcase.
The lack of specialty dining aboard river cruise ships doesn't mean you won't eat well. The food on the Emily Brontë was both tasty and familiar — and with the exception of the omelet station at breakfast and the carving station at dinner, it was served buffet style. No waiting.
No multiple seatings in the main restaurant forward, nor in the tiny bistro aft. There was a single seating for each meal. That meant show up or go hungry, especially since there no 24-hour room service, which is common on most ocean cruises.
Given all the "stuff" you don't find on a river cruise, it didn't come as a shock that the youngest people on this ship were crew members and hotel staff. Among the passengers, I didn't see anyone who appeared to be under 40. And in some cases, I'm probably being kind.
A party boat, this was not. In fact, it was the quietest cruise ship I've ever been on. No bratty kids, rowdy teens and drunk 20somethings roaming the corridors at all hours of the night — or any other time, for that matter.
So if your vacation needs to be "lit" and turnt up" day and night, this kind of cruising may not be your thing. Likewise, if a bit of unpredictability in your itinerary is enough to send your nervous system to DEFCON 1, this kind of travel might not work for you.
Then again, that fluid itinerary can sometimes work out to your advantage.
The day we docked in Bonn, the day that was supposed to be the last day of the cruise, the captain made an announcement. The rain that had greeted us in Frankfurt had raised the river level enough to enable the Emily Brontë to sail to Cologne as originally planned.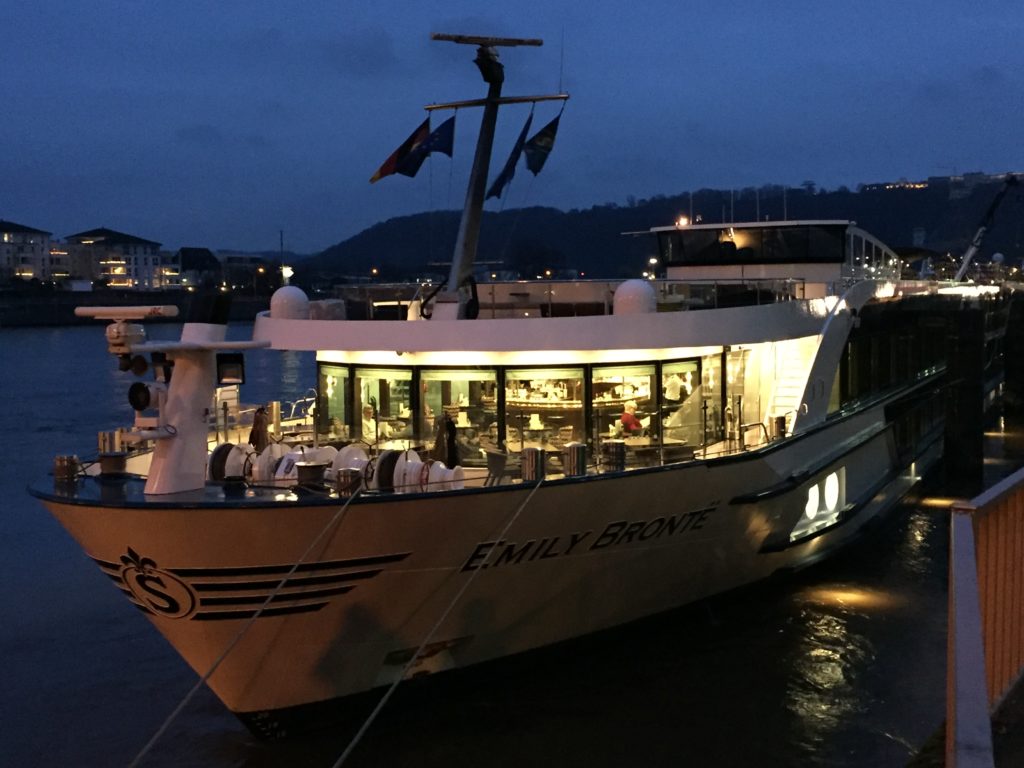 No buses, except the ones that took us across the venerable Hohenzollern Bridge into central Cologne, which has supplanted Paris as my favorite European city (more on that in a later blog post).
CONCLUSION
River cruising is one of the fastest growing segments of the cruise market worldwide. It's a smaller scaled, more intimate cruise experience, lively in some ways sedate in others.
As such, it's clearly not for everybody.
If you're looking for glitz and glamor, non-stop entertainment and diversions of all sorts, or a chance to cut loose with a younger crowd of like mind, this might be for you.
But if you want to see a country or a continent from a different vantage point, if you want to get into the heart of a place in comfortable, low-key environment — and can handle the occasional curveball the river may throw at you without freaking out, a river cruise may be something you'll want to experience.
Maybe more than once.